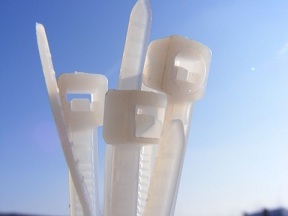 It is a common misconception that standard cable ties are practically all the same and that it makes no difference which type you use. There are in fact a large variety of cable ties available on the market and each type is suitable for different purposes.
The humble cable tie was invented back in 1958 by the American electrical company Thomas and Betts. Released under the name Ty-Rap, these early ties featured metal teeth and were used for securing aeroplane wire harnesses. It would not be long before nylon became the commonplace material used to manufacture cable ties and the design would then gradually develop until the cable ties that we know today were on the market.
Once the approaching festive season is over, many people's attention will turn to carrying out home improvements for the New Year. Despite a survey in The Daily Mail  reporting that young people in the UK are not very knowledgeable when it comes to DIY, come the New Year a sizeable portion of the nation will be busy carrying out tasks to improve their homes. As all experienced DIY enthusiasts know, cable ties are pretty indispensable and there is a wide variety available for different tasks.
Nylon Cable Ties
This is the most common form of cable tie and the one that is most used for standard jobs around the home, such as securing a small bunch of electric cables together. They are usually of one-piece construction including the locking mechanism. Remember that all cable ties come in a huge variety of lengths but, as most cable ties are cut down in length after securing, it is best to err on the side of caution and get a slightly longer length in the first place.
Heavy Duty Cable Ties
For jobs which require something a little stronger, heavy duty cable ties are perfect. Once again made from nylon, but this time of the heat and weather-resistant variety, heavy duty ties are ideal for securing fencing and large bundles of thick cable.
Stainless Steel Cable Ties
Cable ties constructed from stainless steel are not as common as their nylon counterpart. The stainless steel variety is mainly used where extreme temperatures are involved and ties that are highly heat-resistant are required. However, stainless steel ties are not suitable for use in environments containing chemicals.

Special Cable Ties
Some cable ties come with unique features which are very useful in certain situations. For example, most ties are single use only and cannot be undone once fastened without cutting them free. However, there are certain ties available which feature a locking mechanism which allows the tie to be unfastened and used again. Additionally, if you need to secure electric cables to a work surface, you can now purchase cable ties which contain mounted heads with holes, in order to be able to screw them to the surface.
Whatever job you have in mind, cable ties should be an essential component of your toolbox.