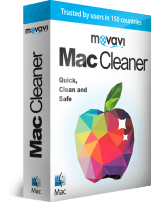 Trying to keep your Mac clean of any unnecessary files may sometimes feel as though you're fighting a losing battle. Between getting rid of cache files, logs, and trash bins there's also the question of unused apps, localizations and other old and large files that aren't needed – and tracking them all down is not only time consuming, but tedious work.
That is why it is a huge benefit to automate the process with Movavi Mac Cleaner. Not only will it make it a lot faster to clean your Mac, but it is also likely to find a lot of junk files that you wouldn't be able to locate manually, and do a more thorough overall job.
When you launch the software, it will automatically start to scan your Mac for any and all junk files and display a report with its findings when it is done. From there, you can choose to either immediately delete all the junk that it found with one click – or select certain types of junk files to remove.
Additionally, you will be able to clear up even more space on your Mac's hard drive by taking advantage of the 'Uninstaller' in Movavi Mac Cleaner. With this feature you can safely remove any apps without leaving behind traces or leftover files, and also detect and remove leftovers from apps that you'd removed in the past.
If you work with sensitive or confidential files on your Mac, you may also want to consider using the 'Shredder'. It will give you the means to delete any files permanently – so that they can't be recovered or restored, even by an expert.
As you can see, Movavi Mac Cleaner will give you all that you need clean your Mac of any junk and unused files that may be lurking on its hard drive – without making you jump through any hoops to do so. At the end of the day that should free up a decent chunk of space on your hard drive, and also boost your Mac's speed and performance levels in the process too.